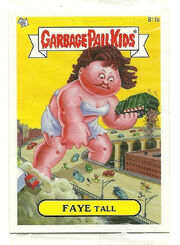 Giant GILLIAN
or
FAYE Tall
is a card from
Brand-New Series 2
and is bonus card number 11a/11b.
Description
Edit
The card shows a giantess holding a garbage truck and standing on a streetway bridge, causing havoc everywhere.
Parodies/Represents
Edit
The card parodies the movie, The Attack of the 50 Foot Woman, name b is also a pun on the word fatal.
Ad blocker interference detected!
Wikia is a free-to-use site that makes money from advertising. We have a modified experience for viewers using ad blockers

Wikia is not accessible if you've made further modifications. Remove the custom ad blocker rule(s) and the page will load as expected.