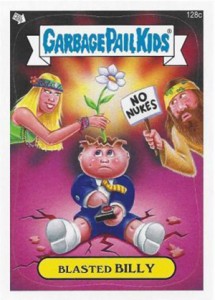 Blasted Billy, Protestin' Preston 
or 
Adam Bomb
is card 128b,c from the Brand New Series 2. 
Description
Edit
This card shows a crying boy with a hole in his head where a flower is planted. A girl is placing it there and a man is protesting against nukes. It is actually another version of Adam Bomb from "Old" Series 1 but instead it has Hippies protesting about nukes.
Parodies/Representation
Edit
This card basically makes fun of the tendency of '60s and '70s hippies to hold protest marches
Ad blocker interference detected!
Wikia is a free-to-use site that makes money from advertising. We have a modified experience for viewers using ad blockers

Wikia is not accessible if you've made further modifications. Remove the custom ad blocker rule(s) and the page will load as expected.