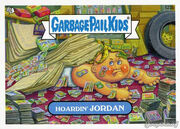 Hector Collector
,
Hoardin' Jordan,
G.P.Kay
 is card
123
ᴀ+ʙ  in
Brand New Series
. 
Description
Edit
This picture shows a kid with piles of different collectibles on top of him. Playing cards, boxes and even a banana skin.
Parodies/Representation
Edit
This card is a throw back to the OS6 card Hector Collector and shows how he has aged and became more addicted to collecting these cards and at the same time it stays relevant with him now being a hoarder. And with the popularity of hoarding shows, This is a must have for any reality TV addict.
Ad blocker interference detected!
Wikia is a free-to-use site that makes money from advertising. We have a modified experience for viewers using ad blockers

Wikia is not accessible if you've made further modifications. Remove the custom ad blocker rule(s) and the page will load as expected.