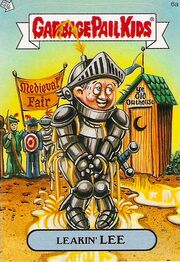 Leakin' Lee or Joustin John is card #6 in All new series 2.
Description
Edit
The card shows a knight who needs to go to the bathroom badly, but doesn't make it on time, so he pees his armor, and his urine comes out of his suit.
Parodies/Represents
Edit
A reference to how inconvenient wearing armor must have been. Also may be a nod to Renaissance fairs.
Ad blocker interference detected!
Wikia is a free-to-use site that makes money from advertising. We have a modified experience for viewers using ad blockers

Wikia is not accessible if you've made further modifications. Remove the custom ad blocker rule(s) and the page will load as expected.