Little Barfin' ANNA or BRITTNEY Spews is card 14a/14b in All New Series 1.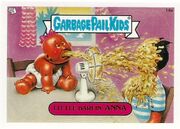 Description
Edit
A girl is vomiting into a fan. The fan ends up blowing the vomit onto a nearby adult.
Parodies/Represents
Edit
Name a is a pun on the comic strip and musical Little Orphan Annie, while name b is a pun on singer Britney Spears.
The card was originally part of Old Series 16 as #656 a.Little Barfin' FANNY/b.BESS Mess. The series was later cancelled.
Ad blocker interference detected!
Wikia is a free-to-use site that makes money from advertising. We have a modified experience for viewers using ad blockers

Wikia is not accessible if you've made further modifications. Remove the custom ad blocker rule(s) and the page will load as expected.