Derailed DEREK
or Train Wreck TREVOR is a card from
All-New Series 1
. It is card number 8a/8b.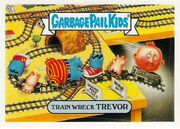 Description
Edit
The card depicts a boy in many pieces riding on top of a falling train.
Parodies/Represents
Edit
The card spoofs toy trains. May also be a riff on the phrase "train wreck,' a slang term/colloquialism meaning a person, place, thing, event or situation that's a huge mess.
The card was originally meant to be part of  Old Series 16 as #635. a.Freight DWAYNE/b.Loco MOE. Unfortunately, the series was later scrapped.