Greaser GREG / CHRIS Hiss
Series(s)
Old Series 2
Card Number(s)
62a / 62b

Greaser GREG or CHRIS Hiss is card 62 in the second series.
Description
Edit
The card shows a greaser kid with a pompadour holding a knife and a chain.
Parodies/Represents
Edit
The card alludes to 1950's greasers.
Other media
Edit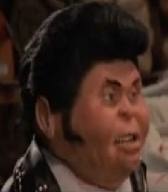 Greaser Greg has appeared in
The Garbage Pail Kids Movie
as one of the seven main Garbage Pail Kids. True to his name, he is unruly, annoying, rambunctious, obnoxious, rude, impatient, and obstreperous. He and the other six Garbage Pail Kids were captured by the State Home for the Ugly after they tried to find their missing friends. Fortunately,
Dodger
and
Captain Manzini
rescued the seven Garbage Pail Kids, as well as everyone else incarcerated there. Unfortunately, they were too late to save the other Garbage Pail Kids. In the end, Greg rides away with the other Garbage Pail Kids.
Greaser Greg has also made cameo appearances in the Garbage Pail Kids Animated Series.
Greaser Greg was played by Phil Fondacaro and voiced by the famous Jim Cummings, who also voiced Nat Nerd.
Ad blocker interference detected!
Wikia is a free-to-use site that makes money from advertising. We have a modified experience for viewers using ad blockers

Wikia is not accessible if you've made further modifications. Remove the custom ad blocker rule(s) and the page will load as expected.