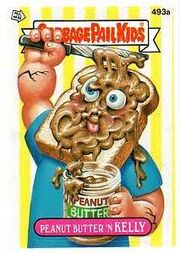 Peanut Butter 'N KELLY
or
Out to Lunch LANCE
is a
Old Series 12
card and is card number 493a/493b.
Description
Edit
The card depicts a boy with a slice of bread as a head spreading peanut butter on his face.
Parodies/Represents
Edit
Name "a" is a pun on the popular sandwich filling, peanut butter and jelly. Name "b" is a reference to the slang term "out to lunch," meaning to be out of touch with reality or not have one's full mental powers
Ad blocker interference detected!
Wikia is a free-to-use site that makes money from advertising. We have a modified experience for viewers using ad blockers

Wikia is not accessible if you've made further modifications. Remove the custom ad blocker rule(s) and the page will load as expected.